SINGLE LENGTH At Kona Golf Sales
[ngg src="galleries" ids="3″ display="basic_slideshow" interval="1000″]
WHY SINGLE LENGTH IRONS?
Simply put, one length means one swing.
A conventional iron set has ½" length increments between each club. This means the player must learn different swing paths for each iron in the set. What's more, ball striking consistency can be a major issue with a traditional, multi-length irons.
Pinhawk Single Length Irons are the solution to this problem. The clubs are all the same length throughout the entire set. That means swingweight and flex are also the same. This allows the golfer to use the same swing, on the same plane, with the same feel, for every iron in the set. The result? Greater consistency and ease-of-play, making the game of golf that much more enjoyable.
WHY SINGLE-LENGTH FAIRWAYS?
If you have a trusty fairway wood in the bag, chances are your swing is the type that will benefit from single length fairway woods. The Pinhawk SLF's can complement the Pinhawk Irons or Hybrids, or can be used with with traditional irons and hybrids. Golfers that can make a nice sweeping swing will often be better off with fairway woods than lower lofted hybrids. Even many of our customers that have the full set of single length irons or hybrids benefit from the lower lofted single length fairways (the 3 and 5 woods).
ONE LENGTH, ONE SWING
You only need to train yourself to make one swing that will work for each single length fairway wood (3 wood through 9 wood). Just like with our single length irons or hybrids, consistent ball striking is the key to great golf shots. You'll find the Pinhawk Single Length Fairway Woods to be point-and-shoot! Fine tuned perimeter weighing with a low center of gravity helps get the ball up quickly with a perfect trajectory.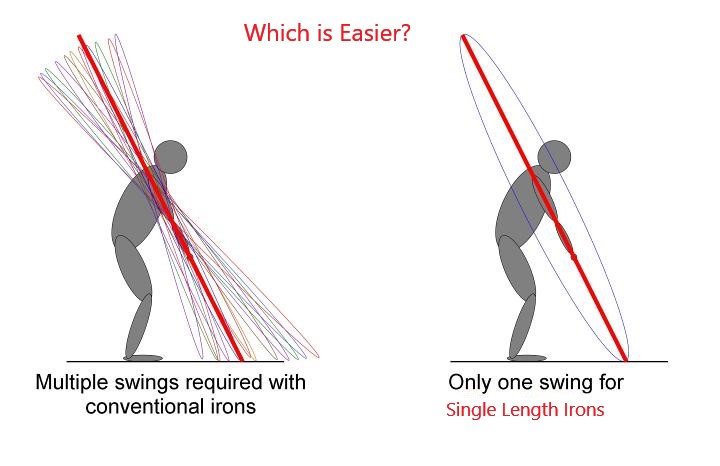 We feature
Pinhawk Single Length Irons, Hybrids and Fairway Woods
Wishon Single Length Irons, Hybrids and Fairway Woods
Olimar Pre Built single length iron sets
Also
Krank Golf
Swing Science
Bang Golf
....and more