Are Same Length 1rons for you?
Are One Length Irons for you?
If you are looking for any of the following, you should be looking at Single Length Golf Clubs.
Hit all your irons straight?
Have one set up with every iron?
Swing every iron as if it were your 8 iron?
Have more on center hits?
Fewer thin or fat shots?
Have more fun playing golf….
There is no "magic pill" when it comes to golf. A bad swing is a bad swing and usually results in a poor shot.
Single length irons makes it easier to improve or learn by making the game simpler.
Each single length iron is built to one length, fitted to you and your natural athletic stance (or set up). The distance is controlled by the loft of the head and of course your swing speed or power. Assuming your swing speed is the same for each swing, the loft change in each head gives you consistent yardage gaps between each club.
This also means that the set up for each club is the same. No more is guessing how far to stand from the ball or ball position for each iron. One stance, one ball position and one swing. Train your Brain.
Once you have mastered the set up for one club, you have the setup for every iron in the bag. This makes it much easier to learn or improve your game.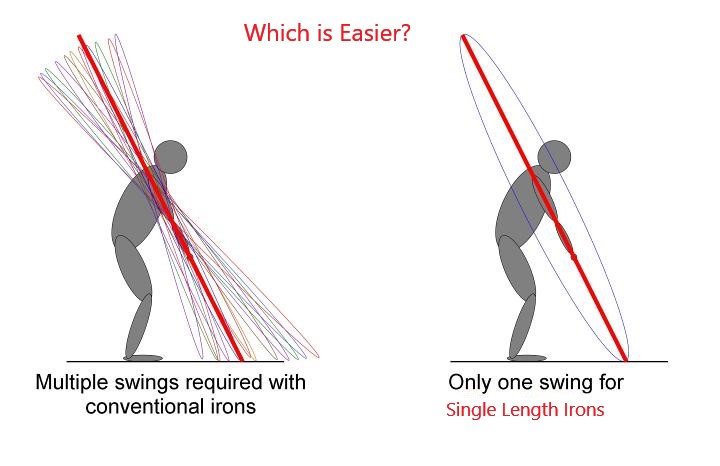 This also results in
straighter shots,
more on center hits,
more distance
All of this should produce more consistency, lower scores and more enjoyment.
It is important to note that you can not make a regular set of golf clubs into a single length set. It will not work!
Single length uses the same head weight for each iron. The lie angle is also the same for each head. Through extensive testing by the designer, the lofts have been set to provide consistent yardage gaps between each iron.
Tags: one length golf clubs