Who is Swing Science
Company Information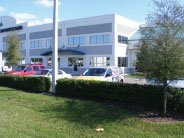 Located in Indianapolis, Indiana, Swing Science was formed on September 1, 2000, as the result of a market spin-off from Rapport Composites, the World's #1 Producer of Filament Wound Golf Shafts. Several former employees along with outside investors purchased the after-market segment of the business from Rapport and started a new company called Swing Science. The Company's product mix has changed significantly since those early years and now includes clubheads and grips to compliment its shaft offering and will continue to evolve going forward as new market opportunities are identified. Most noteworthy to the company's growth are the product additions under the Swing Science brand introduced in 2006 now representing a quarter of total company sales. What's more, the business has grown from a single product line in 2000 to over a dozen lines a decade later!
Why Swing Science Golf Components?
Swing Science is truly a "Custom OEM" company and with the successful launch of the Fitting Center Program in 2008 it is my goal to grow this valuable network of retailers by bringing them products designed specifically for their shops needs. Currently the company offers a wide array of highly customizable products to meet every player profile and also includes a series of "Custom Fit" shafts that were designed to compliment our clubheads from both a performance and cosmetic standpoint.
We have also chosen Swing Science Golf Components to be our custom club component line up as well since the quality, price and company support is second to none. Swing Science components truly complement our other component offerings allowing us to maintain the high quality standards you have come to expect from Kona Golf Sales.
Check out the full Line up of Swing Science Golf Components.