Description
Nunchuk xi Iron Shaft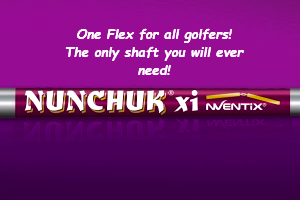 Key Attributes of the NUNCHUK xi Precision Iron Shaft
Better than Steel Performance: Consistency, Accuracy, Distance Control, and Feel
Designed to improve player performance by minimizing detrimental effects of shaft twist, droop and flex
Engineered to be played by the full range of swing speeds – No need for multiple flexes (see below)
Available in both .355″ Tapered and .370″ Parallel Tip
THE NUNCHUK SYSTEM: Now golfers have the opportunity to put precision NUNCHUKs in ALL their clubs for identical feel, function & bio-feedback.
Gives you the CONFIDENCE to HIT MORE FAIRWAYS & GREENS!
With the NUNCHUK® you can rely on the club to deliver the clubhead at full speed, with the clubface perfectly aligned with the intended target – achieving incredible results!
EASY PRECISION CUSTOM FITTING:
Players should be fitted for club head design, loft, length, swing-weight, grip, grip size, etc. Because NUNCHUK shafts are designed to minimize shaft forward flex, downward droop and twisting at even Tour caliber swing speeds, there is no need to offer multiple "flexes" for fitting. The NUNCHUK shafts are designed to work great with all swing speeds!
Available in both .370" parallel and .355" tapered tips. Additionally, the parallel tipped shafts are designed such that they can be sanded to a taper finish by the professional club builder if necessary, adding versatility to this version. Performance of the two tip designs is identical.
Butt trim to length, no tip trimming required or suggested. Long parallel butt section to produce consistent grip feel and size for hand placement on the club.
Solid silver paint color with the opportunity to put the logo down for a clean look
TESTING: In testing the prototypes of the NUNCHUK xi, golfers from a variety of player segments described their irons as "easier to hit," and with increased consistency, accuracy and distance control. Players reported that they were able to better control their trajectories and shape shots on command.